CT Charter Packages & 2024 Pricing
THERE WILL BE NO FUEL SURCHARGE IN 2024!
The FlyingConnie is a full service fishing charter boat sailing out of Clinton, CT. We are equipped with a professional mate who serves as another element of safety, he will rig your rods, land your fish at the end of the trip our mate will take your team picture and fillet you catch. All bait, tackle and ice is included in the cost of your trip. Our most popular trip is a 5 hour half-day trip, where we have just a short boat ride usually less than 20 minutes and we're fishing. This trip leaves the dock twice a day usually 6am and 12pm. We make the preparations for your trip very easy, just bring your favorite beverage (in a can/ no bottles please), a lite snack and a cooler to bring home your catch. A $200 deposit reserves your trip, Mate's 20% gratuity not included.
Failure to no-show will be charged full trip cost with gratuity!
No CT. recreational fishing license needed. Our Charter Boat License covers all anglers fishing aboard the FlyingConnie. Check out all of our charter boat options.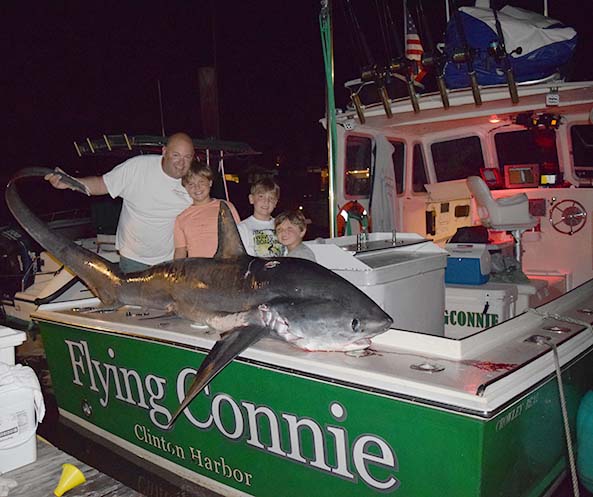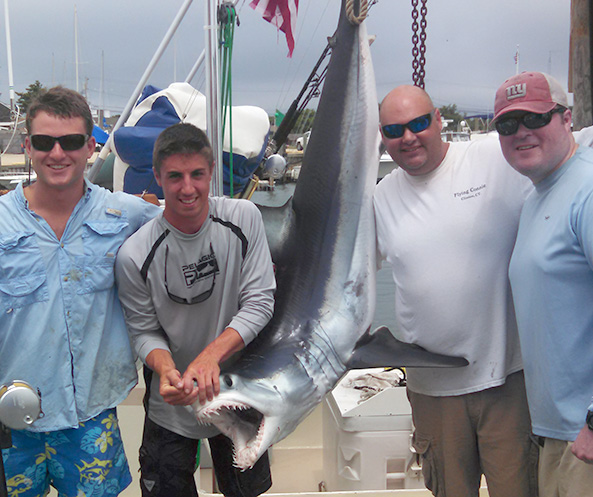 Ask About Tournament Opportunities!
Half Day Trip
Our most popular trip is our 5 hour half day trip. The FlyingConnie leaves the dock (after a safety briefing) at 5-6am and again early in the afternoon. This trip starts with a quick ride (20 minutes or so) to the famous fishing grounds (most noted for a 2011 World Record Striped Bass). Underway our courteous mate will offer best techniques and tips to catch a nice day's catch. We will fish the most effective way, either with bait or troll, depending how the fish have been biting in our previous trips. Our crew works hard to assist you land your fish, then at the end of the trip we fillet your catch, place it in bags and pack it in the cooler you left in your car. The trip price is for a group 1 to 6 passengers, bait, tackle and ice (for the fish) is all included. Night bass trips are available, 2 dozen eels are included, limited to 4 passengers. Beer/Wine welcome no glass please. Please 20%gratuity for the hard working crew.
Three Hour Trip
The three hour trip is aimed at young anglers new to fishing. We keep the trip very simple, target bottom fish, and focus on fun. This trip is offered Monday – Thursdays departure time is flexible and bait, tackle, ice is included.
Weekday Full Day Trip
Want to pursue multiple species or love being on the water for an extend time; this trip will leave our Clinton dock at 6am and return at 1pm a huge advantage is being able to fish an entire tide cycle.
Offshore Tuna Trip
Have you been out with us before, really enjoyed your last trip, but wondered what it would be like to be hooked up to a Tuna? Well, this trip is limited to a group of five anglers to set sail from Clinton Ct. into the deep Atlantic Ocean.  Be sure to pack plenty of snacks. Our preparation starts early the day before the start of this trip to ensure a great (and safe) trip, with so much work required we can only offer this trip during the week and in the month of August. Offshore fishing is pure teamwork, you will be involved in more than just, reelin' in the big one, come rested, and no beer opened until we begin the trip home.
*We recognize the commitment our groups make to fish with us, so if ocean weather makes Tuna fishing unachievable, we will provide a full day inshore fishing refunding the balance between the trips.
*We are also available for all Block Island and Montauk Tournaments if you reserve us earlier enough. Please feel free to call with any questions.
50% deposit for Tuna Trip
Useful Information
The Flying Connie carries only Shimano Rods and Reels the best tackle available. Customers decide whether to catch and release or take fillets home for dinner. All charters require a deposit upon your reservation. When Capt. Mike cancels a trip due to poor weather conditions the deposit is either refundable or can be used to book a charter for a future date.
Captain Morgan's Fishing Blog
A STRIPER TRIP OF A LIFETIME!
Memorable striped bass night with the world record holder!
A trip is planned. The excitement builds. And the day finally arrives. Throughout the wait, thoughts of everything from catching a mammoth fish to appropriate gear and rigging weigh heavily. Conversations with your fish'n buds escalate while all along, you wonder who will wind up with the best story to tell.
Unlike an early morning trip where daylight abounds, this was to be an evening one. Live eels and some freshly netted bunker were on the menu – all to entice a striped bass into sucking in one of these lively fish. Unfortunately, the day started with forecasts of severe late-day thunderstorms. Not something anyone needed or wanted to hear.
Sure enough, as the crew left Captain Morgan's to net some additional bait, the skies opened up. Gathering bait, to say the least, was a challenge but they succeeded. The rain was unrelenting, thunderous clouds roared and the lightning bolts lit up the sky. All waited to see whether or not this weather event would pass. In the interim, calls were bounced from cell phone to cell phone, re-setting departure time in hopes the waters would become fishable. All agreed. This trip was a go.
Needless to say, conditions could have been better. The storm did blow by and blue skies appeared briefly. However, throughout the trip, maintaining a proper drift on one hand, monitoring the skies on the other and becoming best friends with the GPS, radar and weather channel would have kept the sharpest of captains on their toes. This skipper, though, is safety conscious with a vessel to match and a qualified EMT to boot. He was on his game!
Meanwhile in the cockpit, anglers, eager to hook into a 'linesider,' were prompted by one who knows his way around striped bass. His one-on-one coaching and explanations of how to effectively use rod and reel proved successful, in spite of challenging inclement weather. Together with Captain Mike's experience, Greg's expertise and a little help from above, these anglers truly had a trip of a lifetime. It all boils down to knowing when and where to go and what to do when you get there – safely!  After all, how often can one get to fish side-by-side with the Striped Bass World Record holder dubbed by Outdoor Life as "…the World's Greatest Striped Bass Fisherman"?